Gradient 200g – Fingering
56,00€
Un délai de 3 semaines est nécessaire pour la préparation des commandes en "Backorder"
Les pelotes sont bobinées aléatoirement avec la couleur foncée ou claire à l'extérieur, cela ne change pas le dégradé, il vous suffit de commencer soit par le milieu de la pelote soit par l'extérieur pour débuter votre projet dans la couleur voulue, ou bien de rebobiner la pelote dans l'autre sens si vous préférez.
3 weeks are necessary for orders placed in "Backorder"
The yarn balls are randomly with the dark or light color outside, this does not change the gradient effect, you just have to start either the middle of the ball or the outside to start your project in the desired color. You can also rewound the ball in the other way if you prefer. 
Fingering weight
Composition: 75% merino & 25% nylon
Around 850m/200g (2x425m il s'agit de 2 pelotes bobinées à la suite)
Needles/Aiguilles: 3 – 3,5
Hand wash in cold water recommended / Le lavage à la main dans une eau à température ambiante est recommandé
Produits semblables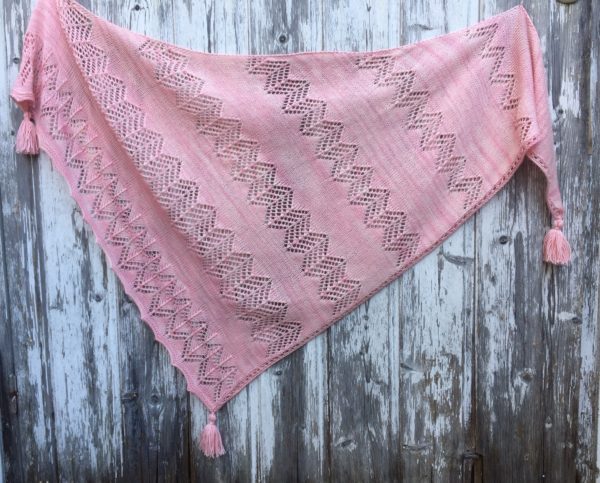 Kit châle "Tanneke" par Amélie Bourgoin
Ordres placed in "Backorder" require 2 to 3 weeks o be prepared!
Les commandes placées en "Backorder" nécessitent un délai de 2 à 3 semaines pour être préparées! 
---
Le châle "Tanneke" est un patron de Amélie Bourgoin, c'est un châle élégant à l'image de sa grand-mère maternelle: Tan. Il est un hommage à cette femme si raffinée qu'elle admire tant. De forme triangulaire asymétrique simple, il se tricote au choix en jersey ou au point mousse, alternant quelques bandes de dentelles ajourées, bordé de chaque côté par un icord.
Deux écheveaux suffisent pour le tricoter en Merino SW Fingering et voici quelques propositions de kits. Attention, le kit ne contient que la laine soit 2 écheveaux de Merino SW Fingering soit 800m de fil, le patron est lui disponible sur ravelry ici: https://www.ravelry.com/patterns/library/chale-tanneke 
---
Fingering weight
Composition: 100% merino
2x 400m/100g
Needles/Aiguilles: 3 – 3,5
Hand wash in cold water recommended / Le lavage à la main dans une eau à température ambiante est recommandé
46,00

€
Select options