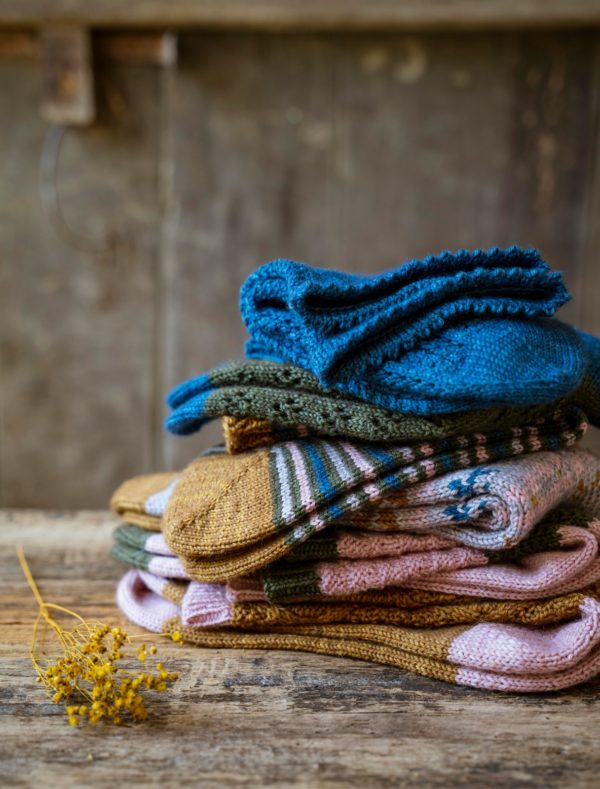 Kit semainier du livre "Tricoter ses chaussettes" de Élodie Morand & Émilie Drouin
Le livre "Tricoter ses chaussettes" par Élodie Morand & Émilie Drouin publié aux Éditions Eyrolles est enfin disponible et c'est avec grand plaisir que nous vous avons concocté ensemble quelques propositions de kits qui vous permettront de réaliser le semainier de chaussettes présenté dans cet ouvrage. Avec 5 écheveaux de fingering, vous voilà prêt(e)s à vous tricoter 7 paires de chaussettes en mixant les couleurs à votre guise!
Le kit contient uniquement la laine, le livre est quant à lui disponible en commande ici: https://www.eyrolles.com/Arts-Loisirs/Livre/tricoter-ses-chaussettes-toutes-les-techniques-9782416000416/?ae=365
Ce kit est composé de 5 écheveaux de Merino&Nylon Fingering de 425m/100g, cette qualité contenant du Nylon est idéale pour tricoter les chaussettes. Les modèles présentés sur les photos d'origine (crédit photo Fabrice Besse) sont tricotés avec le KIT N°0 composé de ces coloris: "Or d'automne" "Jeannette" "Ernest" "Popeye" et "Ginette"
75% Merino SW & 25% Nylon, 425m/100g, aiguilles 2,25 – 3,75
KIT 0: Ginette, Jeannette, Or d'automne, Popeye, Ernest
KIT1: Popeye, Pistache, Atlantide, Laureline, Touareg
KIT 2: Popeye, Pistache, Hortensias, Marcella, Tempetus
KIT 3: Au nez moutarde, Pétulante Pétula, Sakura, Calanques de Piana, Pistache
KIT 4: Pistache, Bouton d'or, Mine de crayon, Hémoglobule, Touareg
KIT 5: Dolly Pop, De Reims, Jeannette, Huguette, Marcella
KIT 6: B+K Forever, Musette, Syringa, Psyché, Touareg
KIT 7: Abysse, Ernest, Tarentella, B+K Forever
KIT 8: Severus, Les murs, Jeannette, Framboises, Rouille de Mine
KIT 9: Crèèèème, Les murs, Poivre et sel, Lancé de menhir, L'gaiette
KIT 10: Ginette, Lucette, Jeannette, De Reims, Roses fanées
KIT 11: Abysse, Ernest, Van G, Rouille de Mine, Aveline
KIT 12: Marcella, Planète Mars, Bouton d'or, Or d'automne, Pécan
Orders placed in "Backorder" after 20/06/21 require 4 to 5 weeks to be prepared, scheduled will be back to 2 to 3 weeks from september 2021. 
Les commandes placées en "Backorder" à partir du 20/06 nécessitent un délai de 4 à 5 semaines pour être préparées, retour au délai de 2 à 3 semaines à partir de septembre 2021.
115,00

€
Select options