View cart
"Le Colonel Olive – Merino SW – Fingering" has been added to your cart. Please checkout within or this item will be removed from your cart.
Atlantide – Merino Single – Fingering
23,00€
Fingering weight
Composition: 100% merino
Around 360m/100g
Needles/Aiguilles: 3 – 3,5
Hand wash in cold water recommended / Le lavage à la main dans une eau à température ambiante est recommandé
Out of stock
Produits semblables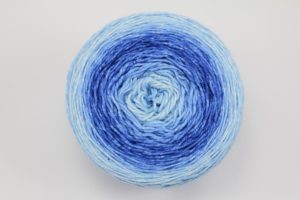 Azulejos – Clair/foncé/clair – Fingering
Ce double gradient vous permettra de tricoter par exemple une paire de chaussette en commençant la première chaussette par le fil extérieur de la pelote et la deuxième par le fil intérieur si vous les souhaitez identiques donc avec le même dégradé, sinon en continuant la deuxième chaussette toujours par le fil extérieur ce qui vous donnera deux chaussettes avec chacune un dégradé inversé.
Ce double gradient peut aussi être tricoté dans son intégralité pour un même projet, châle par exemple. Le dégradé se fera alors du Clair/foncé/clair ou du Foncé/clair/foncé selon l'option choisie.
---
This double gradient yarn can allow you to knit a pair of sock with a gradient on each sock. This double gradient can also be knitted in its entirety for the same project, shawl for example. The gradient will then be Light / Dark / Light or Dark / Light / Dark depending on the option chosen. 
Fingering weight
Composition: 75% merino & 25% nylon
Around 425m/100g
Needles/Aiguilles: 3 – 3,5
Hand wash in cold water recommended / Le lavage à la main dans une eau à température ambiante est recommandé
28,00

€
Add to cart